2017 AILA Insurance Law Prize - The Honourable Justice Martin Daubney
Justice Martin Daubney, of the Queensland Supreme Court, has been awarded the Australian Insurance Law Association's prestigious insurance law prize for 2017.
The annual award, first presented in 1995, recognises someone who has made a substantial contribution to the insurance industry or insurance law.
The award was presented to Justice Daubney, on behalf of AILA National President Angus Kench, by QLD State President Melanie Quixley during the final QLD seminar and lunch event 'The Cladding Crisis' on 29 November 2017.
Justice Daubney was appointed to the Queensland Supreme Court in July 2007. Before that, he was a senior counsel and had an extensive litigation and mediation practice. He was a leading mediator for insurance disputes of all kinds.
AILA National President Angus Kench said Justice Daubney was a very worthy winner of the prize.
"He has been very supportive of AILA since his appointment to the bench and regularly involved in AILA events. In 2016, he presented the Geoff Masel Memorial Lecture around Australia; in 2014 he chaired a full day of the National Conference on Hamilton Island; and in 2017 was a member of the judging panel for the Queensland final of AILA's Ron Shorter award for public speaking," Mr Kench said.
Before his appointment to the bench, Justice Daubney was president of the Bar Association of Queensland and served on its council for more than a decade.
Justice Daubney was educated at Downlands College, Toowoomba. He graduated from the University of Queensland with a Bachelor of Arts and a Bachelor of Laws. After 18 months practising as a solicitor, he was admitted to the Bar in 1988. In 2000 he was appointed a Senior Counsel.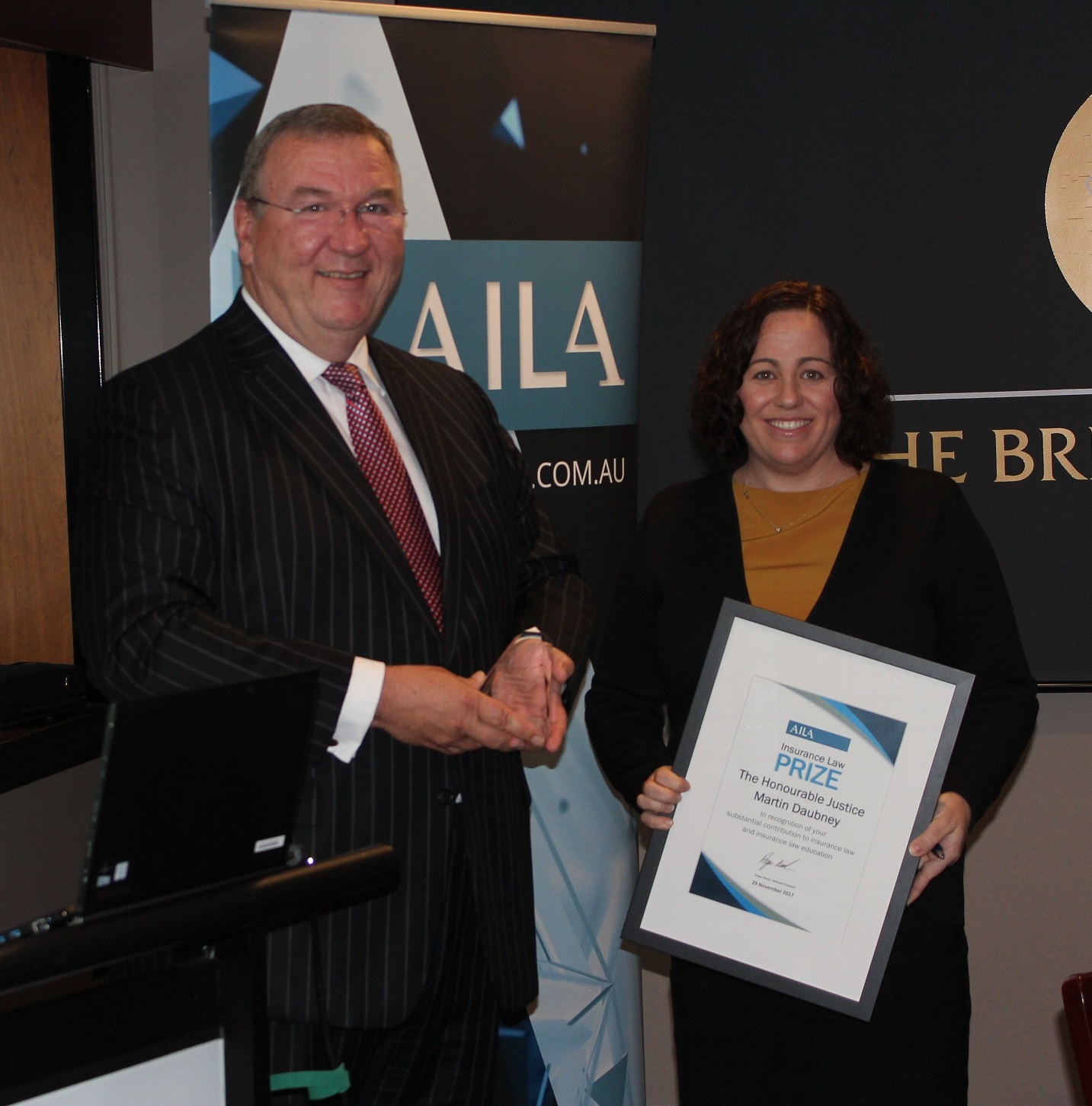 The Hon. Justice Martin Daubney is presented with the crystal award and framed certificate by QLD State President Melanie Quixley