YP support a drawcard for AILA Treasurer
---
by Resolve Editor Kate Tilley
---
AILA's initiatives with diversity and support for young professionals were drawcards for AILA Treasurer Jillian Pancott when she was asked to take on the national role.
The 2019 invite from National President Cameron Roberts coincided with the year Jillian was awarded ANZIIF young insurance professional of the year, and she sees both as career highlights.
It was also a momentous year personally because her daughter Keira was born and she became an Australian citizen.
Canadian-born Jillian studied a Bachelor of Business Administration, after which she joined MDD Forensic Accountants in Toronto, where she had completed an internship during university.
She soon realised how entwined insurance and forensic accounting were. "I didn't learn about insurance at university. You learn about your profession – how to be an accountant or a lawyer – but not where those skills can be applied in the real world, " she told Resolve.
"I'm now part of this big, colourful interesting world of insurance. I had no idea how over-arching insurance is. Fifteen years in and I still get surprises."
In 2012, Jillian took a two-year secondment to MDD's Sydney office to gain global experience. She promised her parents she'd return to Canada, but met Irish-born pharmacist Nigel McFadden, to whom she is now married, through a running group.
That means she's staying put in Australia, a country she describes as "one of the better places in the world to live and establish a family".
Covid-19 travel restrictions mean grandparents in Canada and Ireland are still waiting to meet Keira for the first time.
Jillian joined Sedgwick Forensic Advisory Services in 2015, where she's a senior manager focusing on quantifying economic damages for insurance and litigation purposes.
"A lot of my day is number crunching and calculations but also peer reviews and manager reviews, [plus] client relationship management and paperwork."
Jillian is a mentor to young members of her team and brings her mentoring, training, leadership and guidance skills to AILA as well.
She joined the NSW AILA Young Professionals in 2014, became treasurer for the subcommittee, then NSW AILA branch treasurer, which led to the offer of the national board role.
Jillian acknowledges the importance of the YPs for the industry's longevity. "AILA is actively promoting YPs in the industry and I want to stand behind that. We need to nurture the incoming generation and enable them to share the experience and knowledge of those who have been in the industry for years.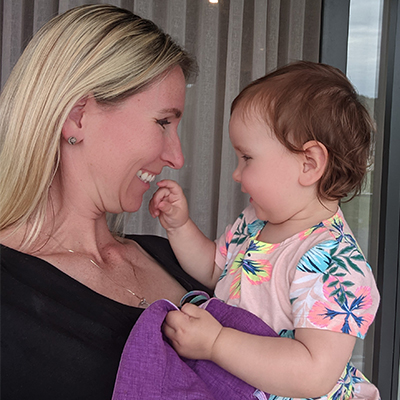 "AILA is doing really well at ensuring YPs have avenues to ask questions to help them develop their skills."
As an accountant, Jillian brings a different perspective to an organisation whose membership is predominantly insurance professionals and lawyers.
She loves the industry and her role in it. "My varied assignments are amazing. Each engagement is different. I do a lot of modelling of financial impacts on a business, examining past data to see how a business would have operated in the future," had insured events not transpired. "There's a bit of crystal ball [gazing] in predicting circumstances that never happened," she said.
"I like to help businesses through the dark times. We make a difference to help them get operational again and back to doing what they do best."
Listening is a key skill to achieve that. "Don't assume, ask the right questions. Listen to people and they will guide you on how to approach each engagement."
Jillian's empathy extends beyond Sedgwick clients – animal welfare is close to her heart. She and Nigel have two rescue pets, a dog, Tyson, and a cat, Monty. Every year she bakes cupcakes for an RSPCA fundraiser.
Jillian hasn't returned to running yet, but plays in a women's softball league at the weekends. Otherwise, you'll likely find her and Nigel relaxing in a Sydney park while Keira burns off energy on the play equipment.