New South Wales
---
By Alexandra Bartlett, Acting President
---
I would like to thank Nicholas Zambetti for his leadership and hard work during his tenure as President of AILA NSW.
Nicholas has guided the NSW committee during what has probably been its most challenging time. He will continue to be a much-valued member of the NSW committee.
Unfortunately, due to Covid-19 developments in January, we had to move our NSW AGM on 24 February 2022 to an online event. NSW Appeal Court Justice Meagher was no longer able to speak on that date, but kindly agreed to present the seminar later in the year as part of our Twilight Series.
We are closely monitoring the Covid-19 position in NSW. We continue to aim to transition most if not all events back to in-person events in 2022, but with the flexibility to proceed with online events as and when appropriate.

One of the most exciting events on our calendar is the AILA National Conference, at Doltone House, Sydney, on 10–12 August 2022. As foreshadowed in Nicholas's last quarterly report, the program has been reviewed and updated to reflect the latest topical developments.
The program updates, sponsorship offerings and website are currently being finalised. More information will be provided in AILA's regular event announcements. It is shaping up as a fantastic opportunity to be updated on key industry developments and catch up with colleagues.
I also encourage you to save the date for our always excellent Australian General Insurance Law Review (AGILR), on 16 March 2022. The AGILR provides an update on key legal developments, is an opportunity to connect with colleagues, and is a useful way to obtain outstanding professional development points. More information will be provided in NSW branch upcoming event emails.
AILA NSW continues to provide excellent webinar content. Congratulations to the YP Committee on the well-attended webinar, How to maximise your career in insurance – Tips and tricks of the trade from leading Young Professionals. The combined NSW/Vic webinar on 22 February 2022, Faulty Towers: Commercial arbitration and the Insurance Contracts Act, provided for an interesting discussion on arbitration in the insurance context.
Keep an eye out for other events to be announced during the quarter.
I look forward to working with the NSW Committee during 2022 in what promises to be a year of continuing to provide high-quality content to the industry (albeit potentially at times in a flexible format).
Victoria
---
By Andrea Petrocco, outgoing president
---
Out of lockdown and ready to get back into it.
Victoria is gaining confidence in getting back to what we do best – major events, AFL, the Cricket World Cup and of course F2F events.
We will test the waters early this year to deliver events in person, while continuing our webinar options.
I would like to thank the outgoing committee members for their dedication and commitment. They are:
Celandine Letcher, IAG
Sarah Fountain, DLA Piper
Shannen de La Motte, AIG
A warm welcome to our new committee member, Chris Liamos.
I would like to personally thank the committee for their support, time and dedication over the last two years as they managed work commitments and home schooling, while enduring what seemed to be a never-ending lockdown, to deliver industry-leading webinars for members.
My term as President has ended, and I welcome Darren Ferrari, the new Victorian President.
South Australia
---
By Tara Maschotta, President
---
We have made it to the start of another somewhat tumultuous year, as we all adjust to our new normal (again).
AILA continues to put on outstanding educational webinars, with the hope that more face-to-face events will occur as restrictions are eased around the country.
With a few additional obstacles about venues and capacities, some planned events may have to be pushed back further into the year, and even into the new financial year.
In South Australia, we are planning our first webinar with details to be advised soon.
We hope to put on several breakfast briefings throughout the year if the pandemic allows. We also plan to conduct another mock trial and YP events.
We will again aim to conduct the Year in Review end-of-year event. SA Appeal Court President Justice Mark Livesey provided a comprehensive discussion of the important cases in the 2021 year at the last breakfast briefing for 2021. We sincerely thank him for his time and efforts, and his continued support of AILA.
We bid farewell to Anthony Hillary, of HWL Ebsworth, who will take some hard-earned time away from the AILA committee. Thank you, Anthony, for your contributions to both AILA SA and the National Board. He will be missed. We also farewell Nick Henley and thank him for his role on the committee during such a turbulent time.
Thank you to Scott Duell for his tireless efforts as the past president of AILA SA. He will continue as a committee member and help me with a smooth transition.
We are excited to welcome two new members to the committee, Tiah Brooks, from Jones Harley Toole; and Angelo LaPaglia, from Barry.Nilsson.
Welcome Tiah and Angelo, we look forward to working with you both.
Tasmania
---
By Lisa Rankin, President
---
The Tasmanian AILA committee welcomes a new member Matthew Sakaris and says farewell to long-standing members Damon Symes and Paul Driessen.
We thank Damon and Paul for their valuable contributions. Paul was treasurer for many years, a role which Alison Hay has graciously taken on.
Kate Stockford has stepped down as President and we thank her for all her hard work over the last few years. I have taken over the role and am excited and nervous about stepping into such big shoes left by my predecessor.
The committee is excited for the year ahead with many educational and social events already in the works, including a panel discussion about the current Covid-19 situation and its implications on employment and insurance and the AGLR in March.
Western Australia
---
By Andrew Lillico, President
---
I've taken over the WA President's role and would like to thank Justine Siavelis for the excellent job she has done over a very challenging two years.
I am fortunate that our committee is very committed and engaged, and we have a great balance between experienced members and fresh perspectives.
Our final event for 2021, which coincided with the WA AGM, was on 8 December on claims harvesting, false and misleading information, prosecutions and an ethical exploration.
Fab Zanuttigh, General Manager for Motor Injury Insurance at the sole CTP insurer, the Insurance Commission of WA (ICWA), gave an excellent update on claims farming occurring in WA and its impact on the scheme.
He also covered the successful prosecutions ICWA has had against claimants who have wilfully provided false information in efforts to receive more compensation. That was rounded off by a presentation from Russell Daily, from the Legal Practice Board, who gave an update on current complaints and shared views on the ethical issues around claims harvesting
More than 100 attended the event, which was followed by networking drinks and canapés and was a great success.
The first event for 2022 was a breakfast seminar on 3 March – Unmasking Covid-19 and its impact on workers' compensation and the insurance industry. Scheduled speaker was Robert Guthrie, Criminal Injuries Assessor with the WA Justice Department. It was a very relevant topic as we start to understand the impact of various mandates in WA.
The WA Annual General Insurance Law Review is scheduled for 24 March followed by a sundowner networking opportunity. This is an important national event and always very popular in WA. Great speakers already confirmed are:
Bettina Mangan (counsel, Francis Burt Chambers)
Jenny Thornton (counsel, Quayside Chambers)
David McKenna (Mills Oakley)
Keith Thomas or Mark Birbeck (Meridian).
Book your place now.
Queensland
---
By Jack Fairweather, Secretary
---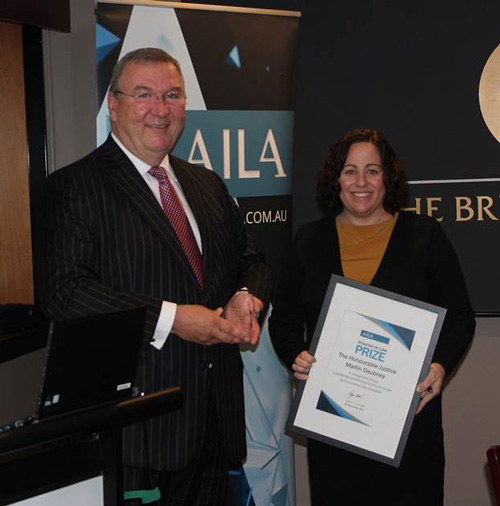 AILA Qld extends warm wishes to Justice Martin Daubney AM on his retirement from the Supreme Court of Queensland and as President of the Queensland Civil and Administrative Tribunal (QCAT).
Justice Daubney is ingrained in the recent history of the legal profession in Queensland. He was admitted as a solicitor in 1987, joined the Bar in 1998 and took silk in 2000. His Honour was called to the bench in 2007 and became QCAT President in 2017.
Justice Daubney has been held in wide regard by his colleagues and the wider insurance fraternity for all of his career. In all facets of his career, he has been a great supporter of AILA in Queensland and beyond.
His Honour has regularly presented, chaired and attended AILA events and always been generous with his time and willing to share his deep knowledge and considerable experience with AILA members and associates, who have implemented his tips and analysis in their working lives over the years.
Justice Daubney's contributions to AILA were recognised in 2017 when he was awarded the AILA Insurance Law Prize.
AILA has been very fortunate for the support of Justice Daubney throughout his career to date and we look forward to welcoming him back to events in the future.
Image: Justice Daubney accepts the 2017 AILA Insurance Law Prize from Melanie Quixley, who is now national Vice-President.