2013 Ron Shorter Memorial Award
The AILA New South Wales Branch hosted the second Ron Shorter Memorial Award on 28 May 2013.
The award was conceptualised by Ron Shorter whose vision was to equip tomorrow's leaders of the insurance industry with the ability and confidence to speak publicly.
The first stage of the award involves young professionals answering why public speaking tuition would benefit them professionally, and if selected to compete, their preferred presentation topic.
Twenty applicants are then selected to attend an intense one hour session on public speaking facilitated by Jennifer Beard and the team at Polaris Coaching. At the end of that session, each applicant must present their topic in two minutes with the benefit of their newly acquired skills. Three finalists are then selected to attend a further intense one-on-one tuition session with Polaris to prepare them for their fifteen minute presentation in the final of the award.
This year's final was judged by the Honorable Justice Nigel Rein, the CEO and Principal Registrar of Supreme Court of NSW, Linda Murphy, and Executive Director of Jardine Lloyd Thompson, Andre Louw, Senior members of the Insurance industry and contemporaries of the presenters were in attendance at the final this year hosted by sponsors of the award, Colin Biggers & Paisley.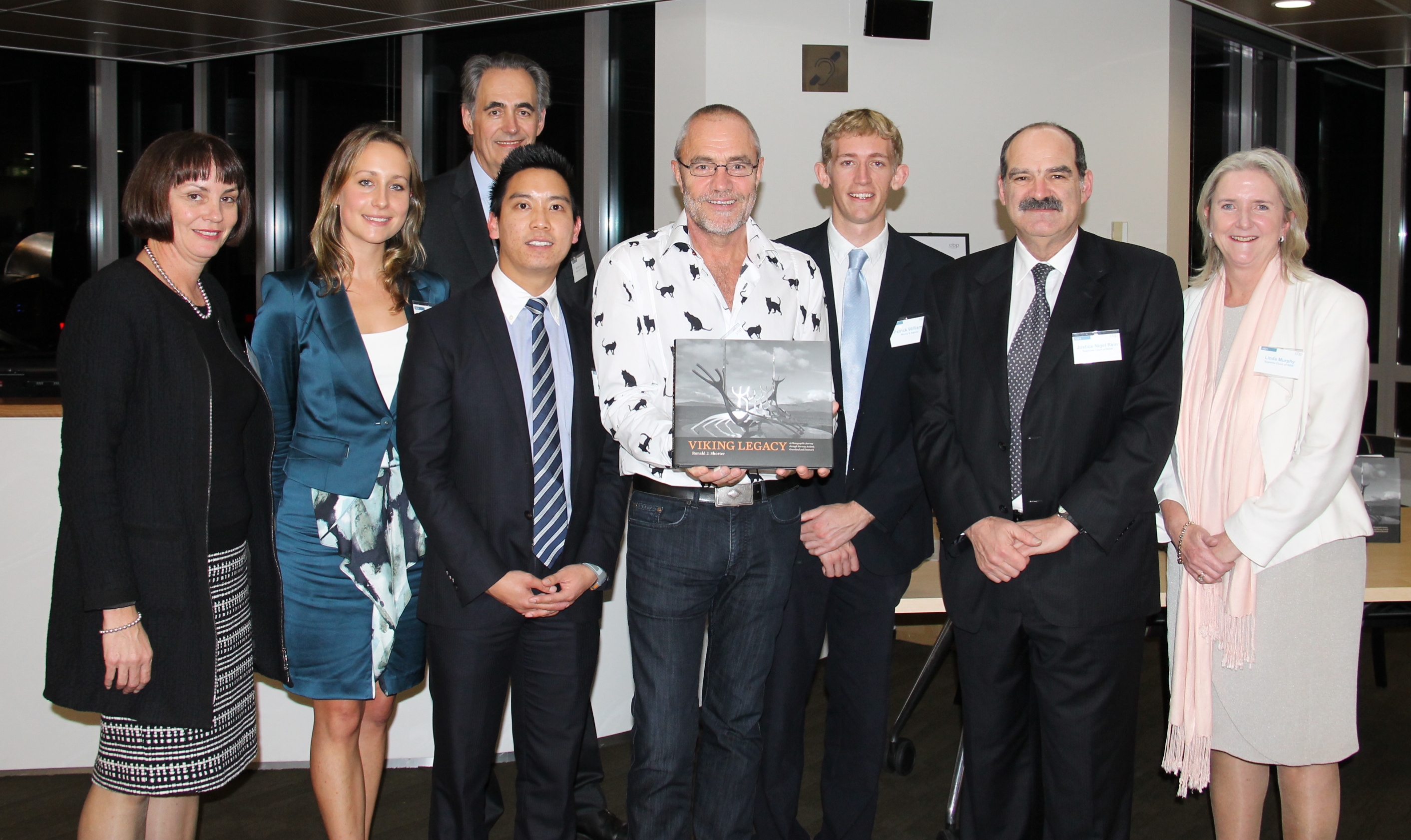 Photo: Finalists and Judges: (L to R) Jenny Beard, Polaris Coaching; Annabel Bowen, Clyde & Co; Andre Louw, Jardine Lloyd Thompson; Zi Lim, QBE Insurance; Martin Clarke; Patrick Williams (winner) Moray & Agnew; The Hon. Justice Nigel Rein, Supreme Court of NSW & Linda Murphy, Supreme Court of NSW.
The quality of presentation by this year's finalists was simply outstanding.
Annabel Bowen of Clyde & Co spoke with extreme confidence, those in attendance agreeing that she had missed her calling and ought to be hosting prime time television. Her topic "To Infinity and Beyond! The far reaching scope of insurability, have we reached the final frontier?" was based on the concept of insurable risk: yes, it is true Tom Jones has insured his chest hair and Mariah Carey, has insured, according to Ms Bowen, her legs.
Zi Lim, QBE Insurance (Australia) Limited spoke on "Certifying an Act of Terror – the role of insurance in response to terrorist attacks". The presentation focused on key insurance issues such as aggregation and terrorism levies, and considered recent disasters such as the Boston Bombings. Zi pressed the positive role the insurance had on society in the wake of catastrophic events.
Our winner for 2013 was Patrick Williams of Moray & Agnew. Patrick presented on the "Potential pitfalls of liability expert evidence". In his presentation, Patrick spoke of the importance of ensuring that experts are properly selected, briefed, their reports properly understood and their conclusions tested. In doing so, Patrick identified some common characteristics of experts the most charismatic analogy being that of the "Sherlock Holmes expert" - being an expert that attempts to solve the entire case - as Patrick warned make sure you qualify Sherlock properly and make him "stick to the issues dear Watson".
Without participating and or attending the final of this award, one cannot appreciate its significance. First it achieves the very purpose for which it was conceptualised: it provides young professionals in our industry with the skill set to speak on complex, dry, insurance issues with wit, authority and confidence. Secondly, it gives our young professionals the ability to express themselves in such manner in front of their industry peers. Thirdly, it raises the individual's profile and collectively the profile of the industry - by way of example, Maysem Elmaet, one of the finalists of last year's competition has been selected to compete in a public speaking competition overseas.
For those contemplating whether or not they should participate in next year's competition, this year's finalist, Zi Lim of QBE says:
Thank you so much for giving us all the opportunity to participate in such a wonderful and meaningful competition. The area of public speaking/ presentation skills is such an important aspect of our professional lives, however is often neglected or overlooked.
I personally learnt and developed so much over the course of the competition. It was a leap out of my natural comfort zone, but I have definitely set new standards for myself and I will only push to further advance myself from here.
What a wonderful opportunity to meet some of my fellows in the insurance industry as well, especially the other two finalists, Patrick and Annabel. I'm sure we will continue our newly developed friendships both inside and out of the professional realm.
I would not hesitate to recommend this competition and Polaris coaching to any of my colleagues in the future.